Suspicion of asbestos-contaminated protective clothing? - We test PPE for asbestos and AMF.
We recently received a request from a volunteer fire department to have their personal protective equipment (PPE) tested after a call-out to determine if it was contaminated with asbestos. In fires in buildings built before 1993, there is a high risk of asbestos fibers being released and contaminating firefighters' protective clothing. Until now, PPE contaminated with asbestos generally had to be disposed of for health protection reasons.
However, a process developed jointly with MeyerundKuhl Spezialwäschen GmbH allows us to non-destructively test firefighters' clothing and other PPE for asbestos and artificial mineral fibers.
How do I have personal protective equipment tested for asbestos?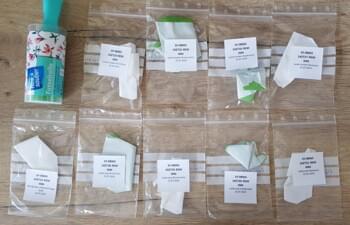 Sampling Asbestos Test PPEIf you would like to have your PPE tested for asbestos or artificial mineral fibers (AMF), simply contact us using our contact form, by phone or by email. We will send you instructions for sampling and all relevant information below. You can take the analysis samples yourself using a commercially available lint roller. Packed in a bag and clearly labeled, send us the paper pieces of the lint roll used for sampling in a padded envelope. Within five working days, we will test your samples for asbestos and artificial mineral fibers and then send you the test report by e-mail.
Special washing for asbestos-contaminated protective clothing
A positive asbestos test does not mean that the protective clothing must be disposed of immediately. A special washing process from MeyerundKuhl, tested by our laboratory, cleans workwear contaminated with asbestos reliably and safely. Compared to a wash cycle in a household washing machine, this professional cleaning process also extends the lifetime of the protective clothing fivefold.
More information about asbestos analysis and cleaning for personal protective equipment will be available on our website shortly. If you have any questions, please feel free to contact us now.
Links for further reading: