Quality management – accreditation – collaborative studies
Our customers have to be able to rely on our analyses at all times. In order to ensure this aim we already introduced a quality management system in the mid 90's which is implemented and lived out consistently. It is the basis of our accreditation according to DIN EN ISO/IEC 17025 which also meets the requirements of DIN ISO 9001.
We regularly participate in collaborative studies and inter- laboratory tests as a means of external control of our testing methods and we are in a constant professional exchange with our customers and partner laboratories.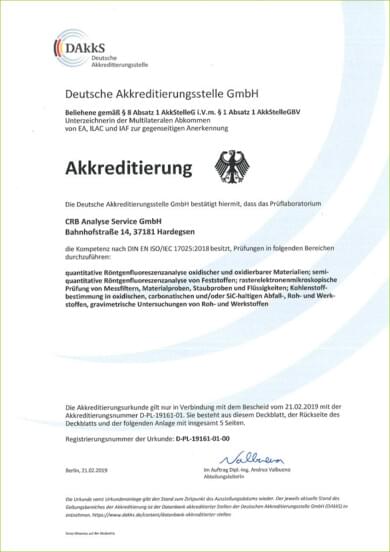 Accreditation according to DIN EN ISO 17025:2018
On the basis of our accreditation from the year 1995 we guarantee the highest quality and reliability for the results of our analyses.
The Accreditation certificate proves that we have acquired the competence to carry out analyses according to DIN EN ISO/IEC 17025:2018-03 and as listed in the appendix of the certificate in the following fields:
Quantitative X-ray analysis of oxidic and oxidizable materials
Semi-quantitative analysis of solids
SEM analysis of air monitors, material and dust samples
Determination of carbon in oxidic, carbonate, and/or SiC containing waste, raw and processed materials
Gravimetric determination of raw and processed materials
Our 'flexible accreditation' allows the modification and development of existing and new test methods.
Collaborative studies, inter-laboratory studies, PT programmes
The best internal measures of quality assurance possibly only show that systematical errors can be reproduced consistently. Only the external control of a laboratory by collaborative studies, proficiency tests, PT or inter–laboratory studies permits statements as to trueness, accuracy and comparability of test results.
For this reason we regularly participate in collaborative studies to assure external control of our analytical methods. In addition to this we maintain close contact to our customers and partner laboratories.
The most important data base for conducting such collaborative studies is EPTIS, the database of the Federal Institute for Materials Research and Testing, BAM.
Furthermore there is an accreditation for the regular participation in collaborative studies by means of PT programmes of the International Association of Geoanalysts, IAG, GeoPT-progam, X-ray fluorescence analysis, XRF and of Health and Safety Laboratory, HSL, AIMS, SEMS, asbestos analysis of material samples, air samples.
The results of the collaborative studies are presented as a target – performance comparison together with the measurement uncertainties of the test results in 1-sigma and the Z-score.
"Collaborative studies are participatory, democratic chemistry" *
* Lectures on Quality Manangement, author wishes to remain anonymous