Asbestos analysis of roofing felt / roofing felt waste
Disposal and treatment companies point out that roofing felt waste containing tar, which is disposed of in the course of a refurbishment, can be contaminated with carcinogenic fibres such as asbestos and AMF.
The SBB (Sonderabfallgesellschaft Brandenburg Berlin mbH), for example, requires proof of fibre freedom using the BIA method for each batch of roofing felt waste going to landfill.
Read more here: Examination of roofing felt and roofing felt waste for asbestos/AMF
Further information on the disposal of roofing felt containing asbestos and roofing felt waste can be found in this SBB leaflet:
Asbestos in roofing felt waste_information sheet (PDF in German)
Use, Products
Roofing felt and roofing felt waste
Waste roofing felt containing tar
Asbestos type(s)
Mainly chrysotile, other types of asbestos may occur in traces, e.g. in the litter layer
Asbestos content
Wie erfolgt die Analyse von Dachpappen?
Dachpappen können hohe Asbest- und/oder Mineralfaser-Konzentrationen, z.T. im 2-stelligen Masse-% Bereich, aufweisen. Aus Gründen des Arbeitsschutzes bei der Probenaufbereitung im Labor untersucht die CRB Analyse Service GmbH Dachpappe und Dachpappenabfälle wie folgt:

Voruntersuchung des Materials nach Heißveraschung bei 450° als Streupräparat gemäß Richtlinie VDI 3866, Blatt 5:2017-06 mit einer Nachweisempfindlichkeit von 0,1 Masse-% Asbest/KMF - CRB-Bestell-Nr. 111
Bei positivem Befund ist die Untersuchung hier nach einem kostengünstigen Verfahren abgeschlossen, da der Asbestnachweis erbracht ist.
Nur bei negativem Befund erfolgt eine qualitative Nachuntersuchung gemäß VDI 3866, Blatt 5:2017-06, Anhang B mit einer Nachweisempfindlichkeit von 0,001 Masse-% Asbest/KMF - CRB-Bestell-Nr. 122+114. Bei bestimmten Fragestellungen ist auch eine quantitative Analyse möglich, CRB-Bestell-Nr. 123+114.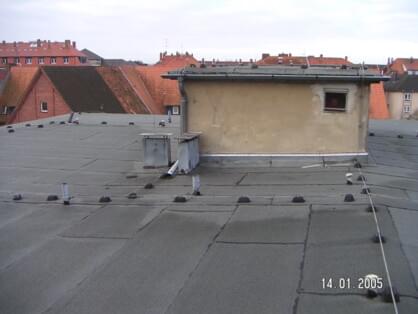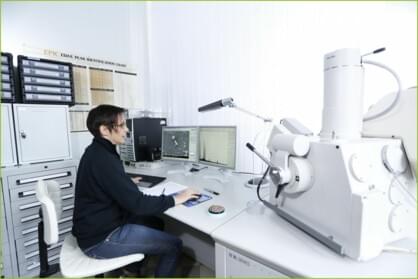 Dr. Benner examining asbestos samples at the scanning electron microscope
Our services for you
Asbestos/AMF analysis is performed according to accredited procedures in our own laboratory, phenol index analysis, PAH according to EPA in cooperation with partner laboratories.

fast processing time, approx. 3-4 days for the preliminary examination; incl. follow-up examination 6 - 7 days after receipt of sample

robust analysis

regular participation in round robin tests for asbestos analysis
Costs for the analysis of asbestos in roofing felt
Preliminary investigation of the material after hot ashing at 450 ° Celsius as a spreading preparation according to guideline VDI 3866, sheet 5:2017-06 with a detection sensitivity of 0.1 mass % asbestos/AMF for 85.00 € net (101.15 € gross).
In the event of a negative result, a follow-up examination according to BIA Method 7487 with a sensitivity of 0.008 mass % asbestos/AMF can be carried out for 245.00 € net (291.55 € gross).
It should be noted that both in an examination according to VDI 3866 and BIA 7487 asbestos/AMF by hot ashing by a factor of 10-30 in the ash enriched and thus in any case can be detected.
► to the price list asbestos analysis
Identification of asbestos in scanning electron microscope images and energy dispersive element spectra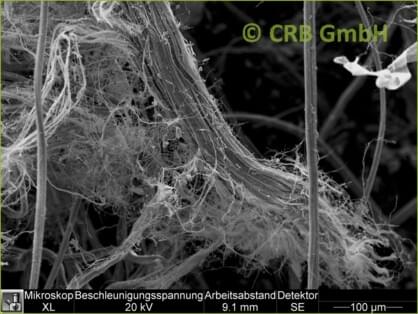 Analysis of asbestos in roofing felt
Scanning electron microscope image of chrysotile - asbestos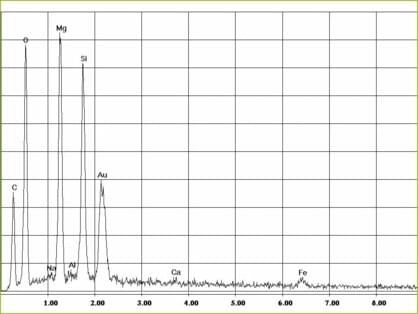 Analysis of asbestos in roofing felt
Energy dispersive element spectrum of chrysotile - asbestos