Italian CRB Online Shop Now Certified by Trusted Shops
High international demand for our laboratory services
The translation of our website into Italian is the next milestone on the way to further opening up international markets. We are honored and highly motivated that customers abroad also trust in our expertise. Making our website available in Italian, after English and French, is, therefore, a logical and necessary step for us.
During the translation, we placed great emphasis on making all shop functionalities available in the target language in order to provide all customers with a consistent user experience.
Since every business relationship is also based on trust, we have also decided to ensure an objective assessment of our quality and security criteria through certification by Trusted Shops. Especially in international competition, this additional trust criterion is of great importance to us.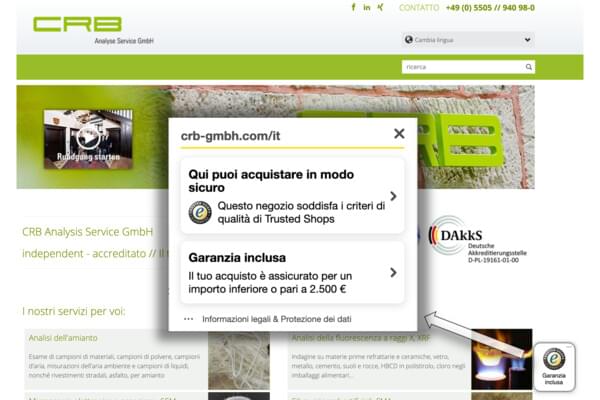 Strict and comprehensive criteria for shop certification
Trusted Shops is regarded as Europe's leading trust brand. The service provider checks online shops for over 100 quality criteria and ensures that consumer rights are respected. Certification requirements include transparent communication, responsible handling of customer data, and reliable customer service. The buyer protection provided by Trusted Shops also guarantees that customers always shop safely - regardless of the payment method chosen. In addition, genuine, trustworthy customer reviews form an important basis for their own purchasing decisions.
"As we feel the international demand, we will continue to work tirelessly to offer our services both within and outside Europe. The certification helps us to reduce trust barriers and to convince potential customers of CRB as a serious partner", says Ralf Klaus Blecher, managing partner of CRB Analyse Service GmbH.