Dealing with asbestos: Ignorance does not protect against punishment – first check, then renovate
Court proceedings: High fines for improper asbestos abatement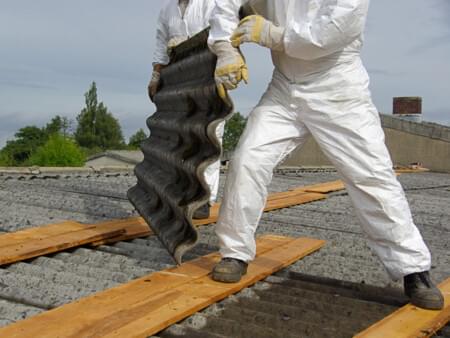 Time and again, contractors and do-it-yourselfers have to answer to the courts for failing to comply with work and environmental protection measures in connection with asbestos.
Just recently, police officers on patrol in Marktoberdorf (Allgäu) observed construction workers removing asbestos-containing Eternit exterior cladding from a building without taking the necessary protective measures. As a result, a criminal investigation was initiated against the contractor.
In another recent case, a former building contractor was sentenced by the Singen District Court to a fine of 36,000 euros and two years' probation. Although there was a suspicion of asbestos according to a previously obtained expert opinion, the construction company had not taken all protective precautions for handling asbestos when dismantling roof panels. Although the workers wore protective clothing, according to witness testimony there was no separate break area, no suitable vacuum cleaner, and no proper cordoning off of the construction site. In addition, there were a disproportionate number of broken roof panels lying around the site.
Beware of fake craftsmen and asbestos scammers
While some handymen and do-it-yourselfers handle asbestos improperly out of ignorance or misjudge the dangerous situation, there are also scammers who want to pressure homeowners and residents into asbestos removal. The police of Middle Franconia warn against perpetrators acting nationwide who pretend to be craftsmen. Frequently, they proceed as follows:
The fraudsters:
approach homeowners and residents in a targeted and unsolicited manner
claim that urgent work is needed on houses, garages, or extensions
speak of an alleged asbestos load (without proof by tests), in order to make humans afraid
promise quick, comparatively cheap implementations (sometimes they start the work already during the first conversation and without placing the order)
carry out the work roughly/improperly and accept possible health hazards
subsequently demand significantly higher prices (sometimes they threaten to simply leave the construction waste lying around)
The police, therefore, advise never to let unannounced craftsmen into the house or apartment. Contracts should never be signed under time pressure and such handicraft achievements should never be paid in advance if the enterprises cannot present proper disposal documents. If in doubt, those affected should contact the police and file a complaint.
Asbestos hazard not visible to the naked eye
The fact that old corrugated roofing sheets (Eternit sheets) contain asbestos and require special safety precautions during dismantling is now known to many. However, asbestos was still used in numerous other building materials until the early 1990s and can be found in a wide variety of places in houses built or renovated before the 1993 asbestos ban (see info graphic: Where is asbestos hiding in the house?). Since the tiny fibers can only be seen under a microscope, it is often not obvious to the layperson, or even to experienced craftsmen, which building materials are contaminated with asbestos and which are not. To protect yourself and others from health hazards and high penalties, we always recommend: first have it tested for asbestos, then renovate!
Sources:
https://www.allgaeuhit.de/Ostallgaeu-Marktoberdorf-Fahrlaessiger-Umgang-mit-Asbest-in-Marktoberdorf-article10043066.html
https://www.suedkurier.de/region/kreis-konstanz/singen/umgang-mit-asbest-landet-vor-gericht-ein-verdachtsfall-wird-richtig-teuer;art372458,10759056
https://www.berliner-kurier.de/ratgeber/achtung-miese-handwerker-abzocke-polizei-warnt-bundesweit-vor-dreisten-asbest-betruegern-li.143727