Follow-up report: Asbestonomy 2023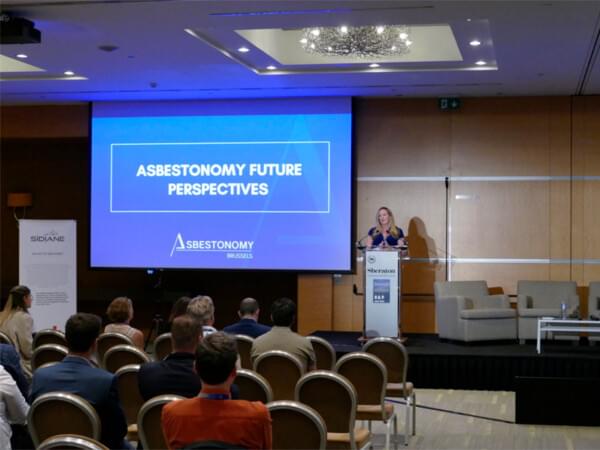 On June 8 and 9, 2023, the second Asbestonomy took place in Brussels. We were also present to get the news on the topic of asbestos and the handling of this hazardous substance in different regions of the world.
The aim of this event is to pool and share knowledge about asbestos available in different countries in order to protect the lives and health of people worldwide. In this article, we summarize some of the contents of this exciting event:
Asbestos in the UK
The first session of Asbestonomy presented the asbestos situation in the United Kingdom. In the United Kingdom, just over 2,704 tons of crocidolite were used in cement from 1950 to 1960 and 3,253 tons of amosite from 1960 to 1975. The import of amphibole asbestos was stopped as early as 1985. After all this time, the rate of new mesothelioma cases should have already decreased by more than half. However, many more people continue to develop asbestos-related lung cancer and other lung diseases than expected.
The number of mesothelioma cases in the United Kingdom varies from 5,000 to 17,000 per year, depending on the source. The risk of developing mesothelioma in the U.K. is 1 in 10,000, and the individual risk can be much higher for groups living or working in contaminated buildings. By comparison, the risk normally accepted by society is 1:1,000,000.
A nationwide survey of buildings exposed to asbestos in a database could help. Appropriate remediation strategies and priorities could then be derived from this, and implemented with appropriate air monitoring. Such a database would also be helpful in the event of a disaster, as it could give rescue workers an indication of where they might encounter hazardous materials.
What remains to be clarified is: Where to put the waste? - This question was also discussed at Asbestonomy. At present, landfill is still the method of choice. Partly because of the increasing scarcity of landfill space in the British Isles, other methods such as thermal and chemical treatment are likely to play a greater role in the future. The charm of these methods would be that the end product could probably be reused as a raw material for other products without having to worry about asbestos.
The latest in asbestos analysis
The next section of the event focused on asbestos analytics and the use of artificial intelligence (AI) in analytics.
Microscopy in asbestos analytics
First, Guillaume Lathus presented the various techniques used to analyze asbestos. The methods used are often named with cryptic abbreviations, such as PLM, PCM, TEM, and SEM (known as SEM in German). Behind them are the polarized light microscope, the phase contrast microscope, the transmission electron microscope, and the scanning electron microscope. Each of these techniques has its undeniable strengths and its proponents swear by them.
The electron-optical methods have a distinct advantage over the two microscopes operating in the visible range in that they achieve much higher resolution. This is because the electrons used are themselves of a much smaller wavelength than visible light. In the case of asbestos, this means that much finer fibers can be resolved with electron optics than with a light microscope.
Artificial intelligence and asbestos analysis
The fact that artificial intelligence can turn our world upside down should have become common knowledge at the latest since the presentation of ChatGPT. But artificial intelligence can do more than just write texts. Sharmin Sharna showed us how AI can make our lives easier when analyzing asbestos samples.
The speaker reported on the situation in France, where TEM (transmission electron microscope) analysis is the method of choice. This extremely accurate method is very time-consuming, both in preparation and analysis. In addition, the equipment used is very expensive. Fatigue-free AI can help optimize costs and increase sample throughput here. For example, artificial intelligence could take over the detection and analysis of the fibers being sought, while human analysts are limited to identifying the fibers.
To do this, the machines must first learn to recognize fibers. A database of routine samples is needed that represents both the different sample materials and the forms of asbestos and their different concentrations. Based on this database, different algorithms were trained to determine the most appropriate algorithm for the task. So far, the AI has shown good performance on very fine fibers and samples with low asbestos content, with good working speed and fiber recognition reported to be even better than human analysts.
There is still a need to verify the detected fibers by a human analyst and to reduce the rate of false positive results. However, accreditation of AI-assisted asbestos analysis has been achieved. This shows that the concept is conclusive overall. In the near future, the system is to be used on several TEMs and will then also be applied in the field of SEM or SEM. Especially the latter could also become interesting for us in Germany.

Asbestos register for real estate sales
In the Flanders region of Belgium, there has already been an obligation since 2022 to create an asbestos register when selling property. Sven de Mulder reported on initial experiences at Asbestonomy. Only certified experts are allowed to carry out these cadastres. The results are entered into a database so that all interested parties can find out about potential asbestos deposits.
Due to the compulsory cadastre, the demand for certified experts in Flanders has increased enormously in recent years. There are now 1,100 surveyors in the region and around 84,000 surveys have been carried out in the past 6 months. Asbestos was found in 65% of the surveys.
In France, it has been compulsory for much longer to draw up an asbestos register when selling or renting property. Frédéric Giraud and Roland le Roux reported on their experience over the last 20 years. Industrial use of asbestos in France increased significantly between 1860 and 1975. Only after 1975 did stricter regulations lead to a decrease, and asbestos was banned in 1997. Since 2010, the rate of asbestos-related pleural diseases has shown a decreasing trend.
Asbestos removal and disposal
Various strategies were also presented at Asbestonomy on the topic of asbestos removal and disposal. Muhammad Uzair Javed reported on an asbestos abatement project in the Pakistani fertilizer industry.
Cindy Bekker spoke about the status of asbestos abatement in the Netherlands. There, asbestos-containing products are classified into risk classes 1, 2, or 2a depending on the type of asbestos used and the asbestos content in fibers per cubic meter.
Work in the area of risk class 1 may also be carried out by non-certified companies if their personnel are trained. The work must be registered and a visual inspection is sufficient at the end. Stricter rules apply to work in the area of risk classes 2 and 2a: Only certified companies are allowed to work here, the work must be reported and an air measurement by an accredited laboratory is required at the end.
Neutralization of asbestos
Removing asbestos is only one step. But where to put the pollutant if it is declared as waste? In the long run, landfilling is certainly not the way to go, because the fibers are not harmless and landfill space is limited. Therefore, the best option would be to render these fibers harmless. Various methods have been proposed at Asbestonomy to do this, either by high temperatures to melting or by biological methods. Both methods have their weaknesses.
Hubert Domergues presented another method to possibly neutralize the hazardous fiber. The proposed method neutralizes the asbestos at high temperatures and low pressure with sulfuric acid. This can completely destroy the asbestos, at least on a laboratory scale, and the neutral end products, which are no longer hazardous, can be recycled. These include silicates and gypsum as well as magnesium salts as raw materials. In the next step, the process is to be transferred from a laboratory scale to a pilot plant this year.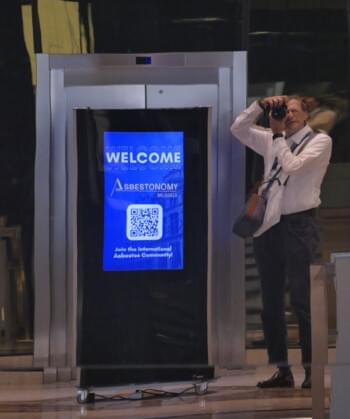 Conclusion: exciting international insights into asbestos strategies
Asbestonomy provided many exciting insights into the situation and strategies in other countries, something that often falls short at purely German-language conferences. Some approaches are very different internationally, while others seem to be similar. It is also interesting to see how often other countries are ahead of the game, particularly in asbestos management and remediation planning. Here, we in Germany can certainly learn a thing or two. We, therefore, hope to be able to participate again next year and that there will be more feedback from Germany. We can all only learn from each other.
You can read even more comprehensive coverage of the topics at Asbestonomy 2023 in the blog post by our colleague Dr. Gunnar Ries.