Review: DCONex celebrates 10th anniversary
At the end of January 2023, experts from hazardous building materials and existing buildings met for the tenth time at DCONex to find out about and exchange views on the latest developments. We too visited the conference in Essen — this time without our own stand, but with even more time for lectures and in-depth discussions. We have summarized some important topics of the event for you:
Updates to the Hazardous Substances Ordinance (GefStoffV)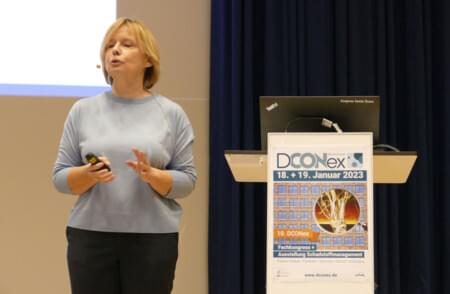 The Hazardous Substances Ordinance has been revised for some time. The new edition could finally be released this year. A specific release date has not yet been announced at DCONex. In her presentation, however, Ms. Bonner from BG Bau was cautiously optimistic that this could happen in the 2nd quarter of 2023. An overview of details from the GefStoffV:
Construction in existing buildings: ASI work (demolition, renovation, and maintenance) remains the only permitted activity involving asbestos. Maintenance means maintenance and inspection, but not repair.
Section 5a Duty to cooperate and provide information: Anyone who initiates construction measures must first investigate and determine whether pollutants (in particular asbestos) and their release are to be expected. Asbestos is suspected in all buildings whose construction began before October 31, 1993. The results of the historical or technical survey must be communicated to the contracted company before construction begins.
§ 11 Use and activity restrictions: This paragraph defines work that is prohibited in connection with asbestos. For example, asbestos-cement roofs and exterior wall surfaces made of asbestos cement must not be coated or cleaned.
Requirements and qualifications: Companies operating in the asbestos sector must meet a number of criteria. Companies, for example, need approval from the competent authority and must report activities in the high-risk sector to this authority at least one week before work begins.
The new LAGA M 23 is in the starting blocks
According to Falk Fabian from the Ministry of Environment, Climate, and Energy in Baden-Württemberg, the new edition of LAGA M 23 will be released this year. The enforcement aid for the disposal of asbestos-containing waste has been revised since 2020. The aim here is building material recycling, which ensures asbestos removal.
What requirements must recycled building materials meet?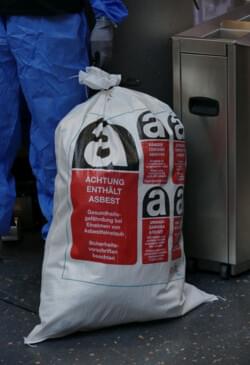 Michael Mund from Ingenieurbüro Mund spoke about recycled building materials and pollutants at DCONex 2023. Before construction waste can be recycled, potential contaminants and pollutants, such as asbestos, must be explored, found, and removed. If this is not possible, reuse is not permitted. Asbestos-free means that after suitable sampling and analysis in accordance with VDI 3876, the assessment value falls below 0.01% by mass. However, if applications containing asbestos (such as fiber cement fragments) are already visually identified, the heap or the component in question is considered to contain asbestos.
The Substitute Building Materials Ordinance (Shell Ordinance) is due to come into force in August 2023. It applies to the production and marketing of mineral substitute building materials in both mobile and stationary treatment plants. This uniform federal regulation is welcome. But there is still a need for uniform implementation, including work aids. The mandatory monitoring of treatment plants, the tightening of some parameters, and, above all, the cost factor could lead to a shift from recycling to landfilling.
You can read more about building material recycling, but also about the responsibilities and liability of building owners, planners, and experts as well as other exciting conference topics in the extensive scilogs.spektrum.de blog entry by our employee Dr. Gunnar Ries.
As DCONex has grown significantly over the years, it will move from Messe Essen to MCC Münster in 2024. We are already looking forward to seeing you at our own exhibition stand again on January 23 and 24.