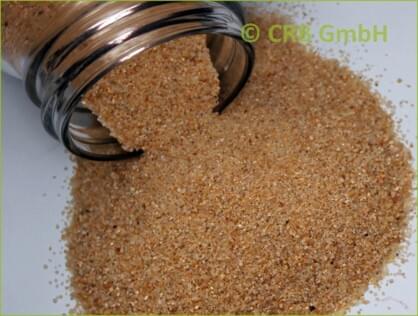 X-ray fluorescence analysis, XRF of foundry sands
Mixture between sand, clay – bentonite, carbon, water glass and organic bonding agents for so-called lost forms
Application among others as
Additives for the production of cement and concrete
In construction and earthwork as a material for unbound base layers
Standards and guidelines for XRF-analysis of foundry sands
ISO 29581-2:2010-03 - Cement - Test methods - Part 2: Chemical analysis by X-ray fluorescence
DIN EN ISO 12677:2013-02 - Chemical analysis of refractory products by X-ray fluorescence (XRF) - Fused cast-bead method
DIN EN ISO 21068-1:2008-12 - Chemical analysis of silicon-carbide-containing raw materials and refractory products - Part 1: General information and sample preparation
DIN EN ISO 21068-2:2008-12 -Chemical analysis of silicon-carbide-containing raw materials and refractory products - Part 2: Determination of loss on ignition, total carbon, free carbon and silicon carbide, total and free silica and total and free silicon
DIN EN ISO 26845:2008-06 - Chemical analysis of refractories - General requirements for wet chemical analysis, atomic absorption spectrometry (AAS) and inductively coupled plasma atomic emission spectrometry (ICP-AES) methods
DIN EN 196-2:2013-10 - Method of testing cement - Part 2: Chemical analysis of cement
DIN EN 15309:2007-08 - Characterization of waste and soil - Determination of elemental composition by X-ray fluorescence
DIN EN 62321-3-1:2014-10 - Determination of certain substances in electrotechnical products - Part 3-1: Screening - Lead, mercury, cadmium, total chromium and total bromine by X-ray fluorescence spectrometry
DIN 51001:2003-08 - Testing of oxidic raw materials and basic materials - General bases of work for X-ray fluorescence method (XRF)
DIN 51001 Beiblatt 1:2010-05 - Testing of oxidic raw materials and basic materials - General bases of work for X-Ray fluorescence method (XRF) - General survey on disintegration methods referred to groups of materials for the determination of test specimens for XRF
DIN 51081:2002-12 - Testing of oxidic raw materials and materials - Determination of change in mass on ignition
DIN 51418-1:2008-08 - X-ray spectrometry - X-ray emission- and X-ray fluorescence analysis (XRF) - Part 1: Definitions and basic principles
DIN 51418-2:2015-03 - X-ray spectrometry - X-ray emission and X-ray fluorescence analysis (XRF) - Part 2: Definitions and basic principles for measurements, calibration and evaluation of results
DIN 51719:1997-07 - Testing of solid fuels - Solid mineral fuels - Determination of ash content
DIN 51729-10:2011-04 - Testing of solid fuels - Determination of chemical composition of fuel ash - Part 10: X-Ray Fluorescence Analysis
Analytical techniques for the analysis of foundry sands by XRF

Wide range of measurement programmes for the XRF-analysis of foundry sands from fused beads or pressed powders
Screening analysis forup to 71 elements
Additional tests
---
Quantitative XRF analysis from a fused bead
---
Quantitative XRF analysis from a pressed powder pellet
---
Screening analysis for 71 oxides/elements
Screening analysis on 71 oxides/elements. Limit of detection 250 µg/g
H

He

Li

Be

B

C

N

O

F

Ne

Na

Mg

Al

Si

P

S

Cl

Ar

K

Ca

Sc

Ti

V

Cr

Mn

Fe

Co

Ni

Cu

Zn

Ga

Ge

As

Se

Br

Kr

Rb

Sr

Y

Zr

Nb

Mo

Tc

Ru

Rh

Pd

Ag

Cd

In

Sn

Sb

Te

I

Xe

Cs

Ba

*

Hf

Ta

W

Re

Os

Ir

Pt

Au

Hg

Tl

Pb

Bi

Po

At

Rn

Fr

Ra

**

*

La

Ce

Pr

Nd

Pm

Sm

Eu

Gd

Tb

Dy

Ho

Er

Tm

Yb

Lu

**

Ac

Th

Pa

U

Np

Pu

Am

Cm

Bk

Cf

Es

Fm

Md

No

Lr
Please note:

In order to guarantee standard conformity of analysis the sample material must be ground to a grainsize < 63 µm, dried at 105°C and we need the value for the loss on ignition, LOI, as a kind of pre-preparation of the sample..
Consequently and if obligatory we carry out the sample preparation as mentioned obove - grinding, drying, determination of LOI - even though you have not explicitely ordered it.
Refer to our
► Pricelist XRF analysis
for costs and conditions.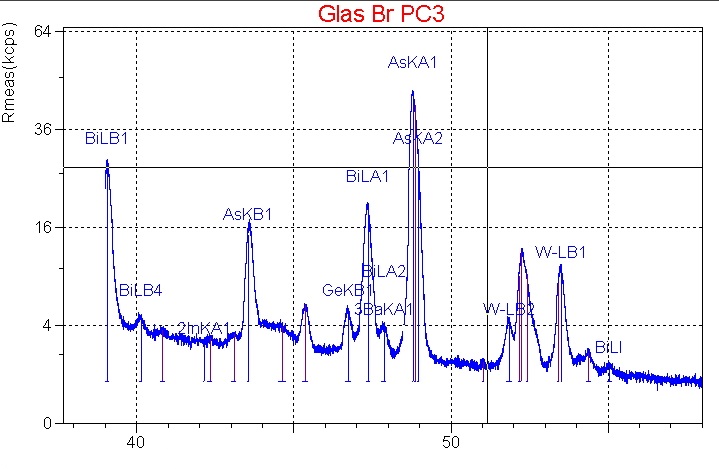 The fundamental parameter programme Omnian provides a matrix-independent, quantitative, semi-quantitative or qualitative XRF analysis of unknown samples with a variety of material properties and different organic and inorganic compositions.
Samples can be analyzed either after preparation or without preparation and non-destructively in case of a suitable composition, i.e. X-ray and vacuum stable and depending on their surface condition.
This enables us to determine element concentrations between the minimum detection limit, usually 250 µg/g and 100%.